No matter what breed your dog, the secret to a happier, healthier, better performing dog is a quality diet.

More than 25 years ago, National® began to develop special formulas that would support the needs of the Canine Athlete -- sled dogs in Alaska! Over the years National® has continued to help performing animals by developing highly digestible and nutritious formulas that would help the dog while in its training period and meet the demand in competition. National® Pet Products, Inc. continues today to manufacture products that you can count on! So whether your dog is performing as a canine athlete in competition or he is your special canine athlete and member of the family... Look for National®!

National® Dog Food. A complete line of well-balanced, tasty formulas for each stage of a dog's life and performance level. The outstanding nutritional quality means:
The nutrients contribute to enhancing the health and well-being of your dog.
When you combine proper exercise and nutritional quality, it translates to such benefits as solid muscle tone, a glossy coat, strong bones and teeth, bright eyes, and exceptional energy levels.
The concentrated easy-to-feed pellets have been helping canine athletes perform for more than 25 years.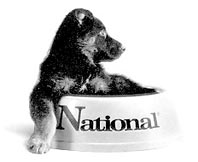 The concentrated approach to nutrition means your dog digests more of the nutrients in each serving. National® blends a variety of rich, quality proteins, fats and carbohydrates into a highly digestible formula that means you can feed fewer cups with better results and lower costs per feeding.



NATIONAL® Feeds, Inc.
P.O. Box 51 • Maria Stein, OH 45860
info@nationaldogfood.com
1-800-558-5803 || Fax 419-925-5026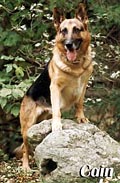 Brad Abel
Deputy/K-9 Unit
Patrol Services
Sheboygan County, WI
We have been able to provide a top level canine service to not only Sheboygan County residents but Manitowoc, Calumet, Fond du Lac, Washington and Ozaukee Counties.
When our canine started using your product, his coat and appearance improved dramatically. I am very happy with his energy level and body tone.