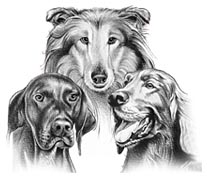 Nutritional Research
Has there been any research involved in developing National® Dog Foods?

Yes, in an effort to develop the finest performance dog foods in the world, National® Pet Products has been actively involved in animal nutrition research programs to ensure the development of quality products.


How long has National® Pet Products been involved in animal nutrition?

In fact, we've been in the animal nutrition business since 1885, developing diets for small animals that enhance their performance while developing a healthy animal with a full and glossy coat and excellent tone.


Is ongoing testing important?

Yes, National® regularly tests every batch to ensure the new production meets the high quality standards that National® Dog Foods are known for in the performance dog market.


What is meant by palatability and digestibility trials; are they important?

Yes, these two different trials are very important. National® completes regular palatability trials to ensure that when you open the bag, your dog will love the taste. Also, National® routinely completes digestibility trials to make sure your dog utilizes the nutrients that are packaged in every bag of National® Dog Food.